Through partnerships, open gardens, volunteering and school support programs, ErinEarth plays a vital role in Wagga Wagga. Set in a predominantly native garden accompanied by an energy efficient house, we demonstrate sustainable living, aiming to be an inspirational resource for our local area. We are proud to work with our local Wiradjuri community. We are on Wiradjuri land and respect elders past, present and emerging and extend that respect to all Indigenous and non Indigenous people in our our community.
We demonstrate sustainable living by:
Offering a garden volunteer program
Opening our garden to the public 9-2pm, Tuesday and Wednesday during school term.
Offering a school education program
Maintaining an active social media presence, educating on sustainable living
Running information sessions for local community groups
Supporting our local environmental education network
Running four Family Fun Days each year, involving demonstrations on sustainable living.
Modelling the way – come in and see our garden!
ErinEarth can be found on Wiradjuri Country, in the rural inland City of Wagga Wagga. Our street address is 1 Kildare St, Turvey Park. We have ample on street parking available and are wheelchair accessible.
What's On
Sculptures in the Gardens
After two successful Sculptures at ErinEarth in 2016 and 2019, we are looking forward to mixing the worlds of art and nature once more.
Sculptors from near and far will display their diverse works giving a new dimension to our largely native garden; bringing it to life with music, activities, fun and refreshments.
Sculptures included will range from large dramatic pieces, fashioned from iron with that classic rustic look, right through to ornate ceramic pieces with everything in between.
Sculptures are available for sale. Purchasers will be able to collect their sculptures on Sunday afternoon or early the following week.
The event will run over the following dates:
Friday Night: 5:30pm-7:30pm
Price: $16 (includes glass of wine and snacks)
Saturday/Sunday: 10am-3pm
Price: $6 single, $10 family
Saturday Night: 5:30pm-7:30pm
Price $6 single, $10 family (BYO Picnic)
 We look forward to seeing you for this unique local event.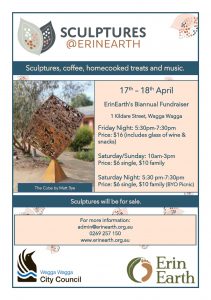 Weekday Open Garden
Tuesdays 9am-2pm and Wednesdays 9am-2pm (during school term).
Garden Volunteer Program 
Volunteers care for the gardens each Thursday from 9am-12pm (morning tea provided) and assist with the Open Days. Please contact us if you would like to join the volunteer group.